Bikepacking – a growing niche for Alpine cycling tourism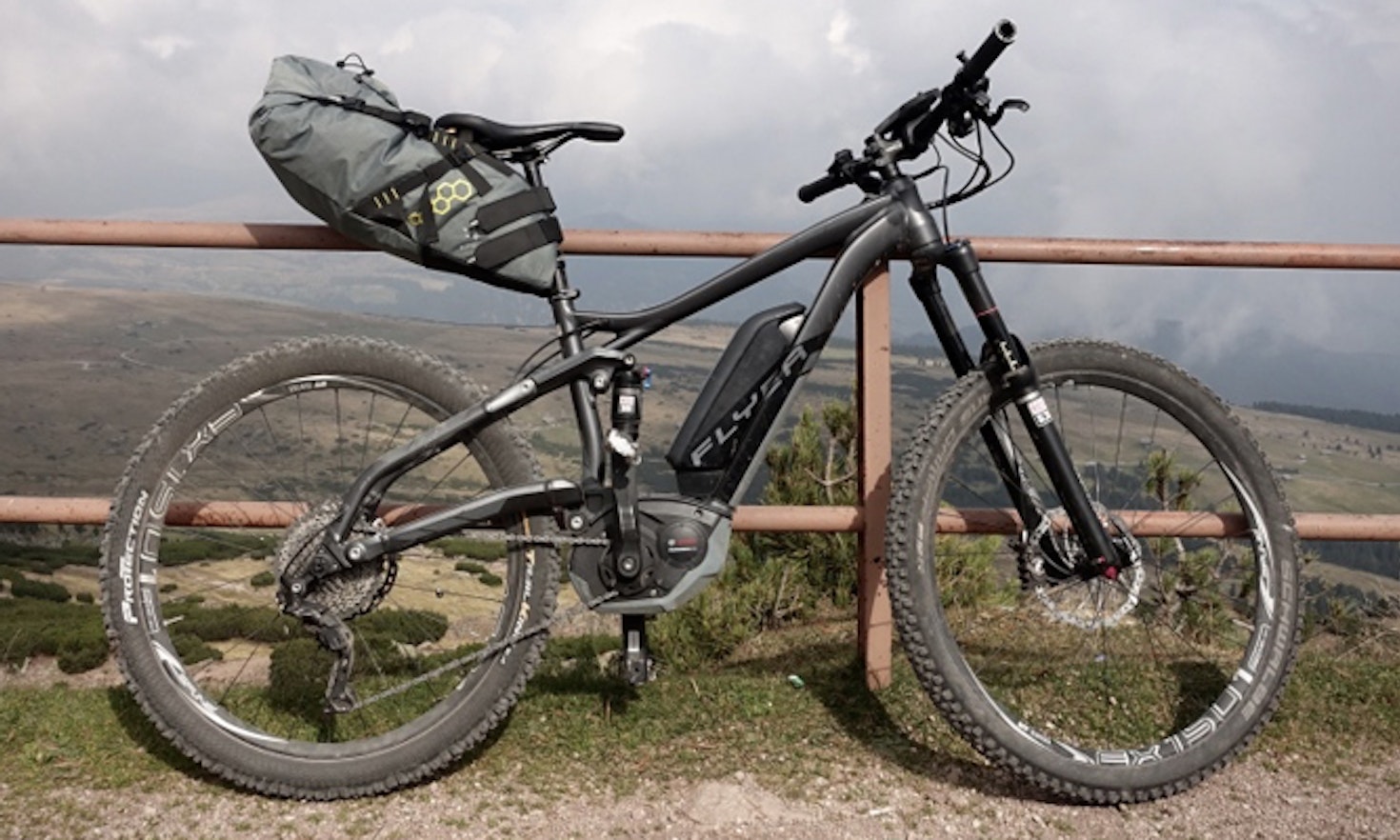 bikepacking-alps-product-development -
Lightweight bike packing bags are a relatively recent development used for overnight or longer multi day bike tours. Bike-packing bags tend to be lighter and smaller than traditional pannier bags, plus their positioning on the bike means that they won't get in the way when the going gets tough.
Development of these bike packing bags started a number of years ago in the US by riders looking to race events such as the Tour Divide, a 4.450 km race from Banff, Canada to Antelope Wells, on the Mexican border, with the emphasis on off-road riding. Initially the riders designed and built the bags themselves to be able to carry the essentials needed for a self-sufficient ride of such magnitude. Soon thereafter a small number of local companies sprung up, catering for these long distance riders and providing custom bags according to riders' specifications and needs.
How does bike packing differ from traditional cycle touring?
Historically cycle tourers have nearly always used racks and panniers as a means to carry all the equipment necessary to be self-sufficient. This is a great way to travel, but it does have some disadvantages. Especially for those looking for a bit more adventure, who want to venture further afield to discover more off-road type riding where racks and panniers could be obtrusive. Additionally, by their very size, bike-packing bags do not allow over-packing, thereby helping to keep the weight down, especially helpful on long uphill sections. Bikepacking bags are attached to the bike with velcro straps hence they are far less prone to breaking, especially on prolonged rough off road sections, where the constant shaking and rattling might otherwise cause severe fatigue or even failure on a traditional setup.
Initially designed to fit on traditional mountain bike frames, bikepacking bags work equally well on "gravel" type bikes; bikes which tend to be used for light off road ventures, more specifically dirt roads, gravel roads etc. Indeed, bikepacking bags are so versatile that they can be fitted to almost any type of bike and don't need special adapters or racks.
As the popularity of these bags has increased so has the number of manufacturers and retail stores which stock these bags, as well as the smaller, independent builders who continue to offer tailor made solutions to suit most bike packers. Who can benefit from these type of bags? Everybody who likes to travel with the bike is the simple answer. Anyone looking to reduce weight while still having the capability of carrying their own gear and use more or less any type of bike for travelling.
For product development in tourism, bikepacking may be a valuable opportunity to re-think the actual strategies that mainly focus on traditional mountain-biking, road biking and trekking-biking – the classical market segmentation. Especially for the design and layout of new routes destination managers should be aware of this new emerging trend of bikepacking and consider that nature and wilderness are the common interests of cyclist – no matter what kind of bike they are riding.
Offering multi-day routes to road bikers and mountain bikers as well as mixed surface routes for gravel bikers should be considered in product development. In many cases this is not an easy task, because the governance of destination management organizations in many cases is limited to the boundaries of the own destination. Because of the increased lengths of routes for bikepacking-adventures the cooperation between various destinations/locations becomes a crucial success factor. Further, if the route becomes a mix of off-road paths, cycleways and secondary streets different authorities have to be involved and act as a product development team. Otherwise the product quality cannot be guaranteed and conflicts are inevitable.
The innovation in cycling industry will continue and tourism industry should keep a sharp eye on the developments around bikepacking. New formats like e.g. the Tuscany Trail and the South Tyrol Trail show that attractive routes are able to motivate the international bikepacking community to visit the region. New bike packing-routes and services are also able to create digital awareness in online communities and are a valuable possibility to attract international guests for spending their summer holidays in the Alps. Also the growing offer of serious e-bikes will increase the market potential of cycle-tourist that are interested in multi-day routes that cover larger areas of interest.
Cooperation between various regions, local authorities and land owners becomes essential for a quality oriented cycling route development. It will be on the responsibility of the destination management to create win-win incentives that cooperation will work in day-to-day business. Finally, please do not forget the hikers because only if both – cyclist and hikers – coexist the destination can thrive and prosper.
Authors: Alan Parsons and Manuel Demetz
helpful links