Why the Ukrainian flag in the window matters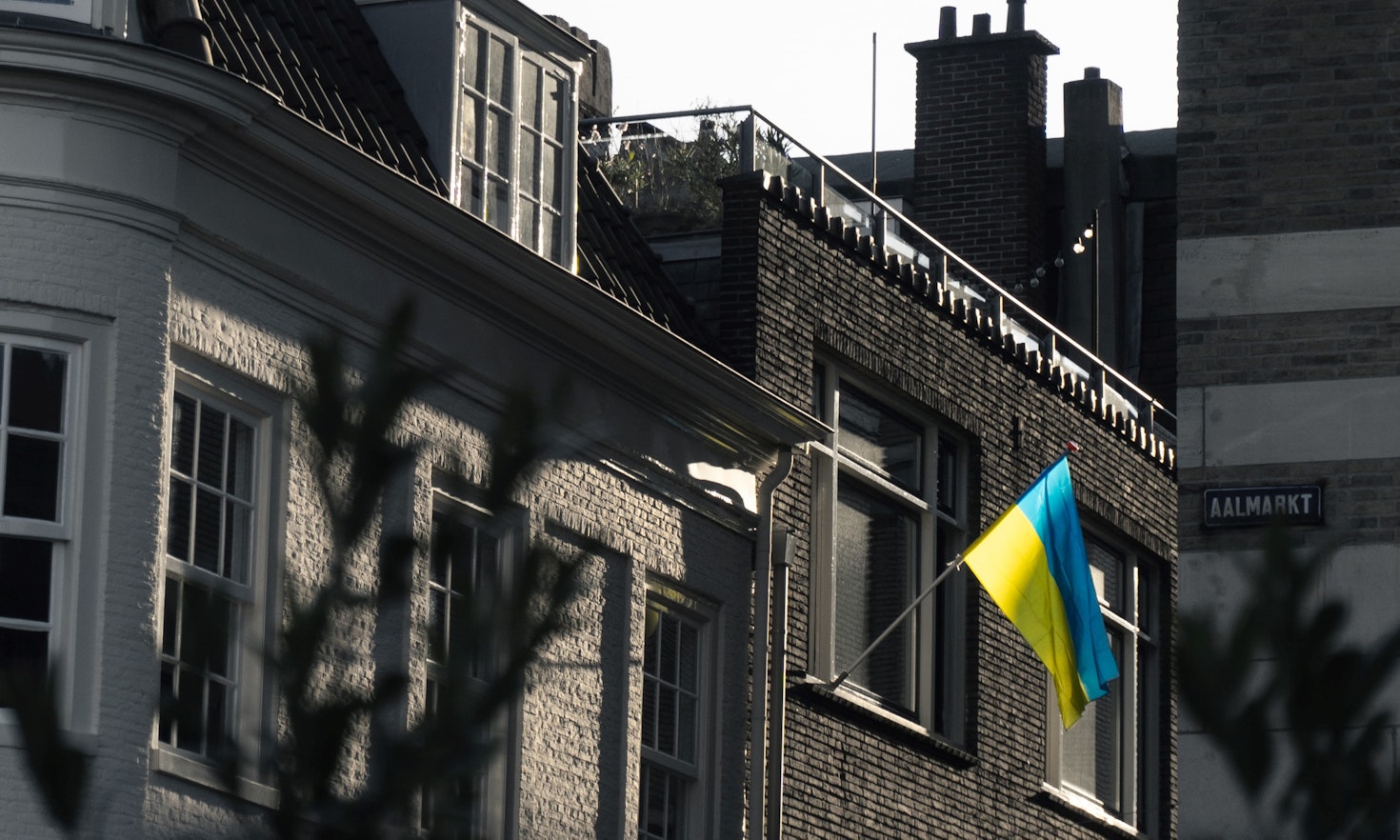 null - © Finn IJspeert/Unsplash Finn IJspeert
A few weeks ago, I accompanied a refugee from Ukraine to one of Brussels' local town halls to help her with translation. When we approached the building, we saw the flag of Ukraine flying in the wind at the entrance alongside the flags of Belgium, the EU and the municipality. It was very touching. I noticed how the tense expression on my companion's face softened, she smiled. "You see, you are welcomed here and they ready to help you," I encouraged.
A few days ago, we visited the building for the second time, and as we were waiting in the line, through the window we saw two men walk up to the flagpoles and lower the Ukrainian flag. Moments later it was replaced by a rainbow LGBT flag. "You see, May is the month when European countries have LGBT pride marches, so the institution is showing its solidarity," I tried to explain to my Ukrainian companion.
That same evening, when I went into my bedroom, I saw that the wall of a Brussels skyscraper, well visible from my window, which only at dusk yesterday had been lit up in the yellow and blue colors of the Ukrainian flag, was now gleaming multicolored abstract flashes as it had in "pre-war" times.
That yellow and blue neon flag on the wall of a Brussels skyscraper near the Palace of Justice was the first thing I saw when I woke up in the middle of the night to check the news from Ukraine during those terrible February war days. Or when, at night, my mother would call me from Kyiv and say in a quiet voice: "Darling, I'm sorry to wake you up, but they declared an air raid and I just wanted to hear your voice and tell you that I love you." And I calmed my mother as best as I could, wrote messages to my friends and colleagues from Kyiv, Irpin, Bucha, and then tried to go back to sleep, looking at the yellow and blue flag which was gleaming brightly and steady in the darkness.
Last week during an interview, the head of the Ukrainian NGO in Brussels told me that the humanitarian centers, collecting aid for Ukraine, had been receiving less donations recently and that fewer and fewer people were coming to demonstrations. During the first days of war, about ten thousand people gathered to protest near the Russian Representation to the EU. And now, the number has diminished to about two hundred, at most. For the manifestations to boycott gas stations belonging to the Russian oil company Lukoil, only a few activists show up. Even though single pickets do yield results and their participants manage to persuade some drivers to go to other gas stations and not to pay for Russian gasoline, where the picketers hold banners saying "One drop of Lukoil gasoline = One drop of Ukrainian blood", "Lukoil finances Russian bombs that kill children" and "Stop buying Russian Oil!", Belgian journalists do not write about it, because it is not a mass action. Meanwhile, there are about 180 Lukoil gas stations in Belgium alone, but very few Belgians know that Lukoil is the second largest energy corporation in Russia, which was headed by sanctioned Vagit Alekperov, a close friend of Putin. And more information about this fact in the Belgian media wouldn't hurt.
"At first the news from Ukraine shocked people, but gradually they have begun to get used to the emotions that this war causes. Many Ukrainians came to Belgium, Belgians communicate with them, live near them, and begin to take this whole situation as a given," the activist told me. Psychologists explain this phenomenon by the ability of the human nervous system to adapt to almost any shock circumstances, because it cannot withstand the level of experience caused by events around us. And now, after the shocking news from Ukraine, we have already stopped to repeat to ourselves: "This cannot be true! How could this happen?! Isn't this a dream?!" Because we've already reconciled with the explanation – it's a war.
I shared my thoughts with a European diplomat. We were sitting with him in a café in the Place du Luxembourg, not far from the Station Europe building, where the European Parliament has made a whole floor available to the so-called Ukrainian Hub, a body which coordinates Ukrainian civil society actions and provides psychological and administrative support to refugees from Ukraine arriving in Belgium.
My diplomatic acquaintance agreed that ordinary Europeans are probably a little tired of the news from Ukraine and that their countries have their own problems. But it doesn't mean they've stopped sympathizing. The main thing is that the support of Ukraine in the EU has been transformed into something other than just hanging flags in windows or going to demonstrations. No one in Brussels doubts Ukraine's European future. "Your destiny is in the EU, it has been decided at the highest level, look at the amount of financial, military and technical support that is allocated to ensure that you win this war, are able to rebuild what was destroyed and move on with the path you have chosen," my acquaintance assured me.
I know he was certainly right. Without the unprecedented assistance of Western partners, Ukraine would have hardly been able to have such a long hold on their military achievements during the first days of the war. And the prospect of granting Ukraine the status of an EU candidate country, which the bloc's leadership is now officially talking about, was for millions of Ukrainians a real recognition of their aspirations, which they have paid and are paying the highest price for since the Euromaidan.
However, I still disagree with one thing. The Ukrainian flag in the windows of houses in European cities is of great importance. And I hope it will continue to shine through the darkness as a symbol of the indestructible support that Ukraine so desperately needs today.