How Academic Bullying Led This Data Scientist to Open Science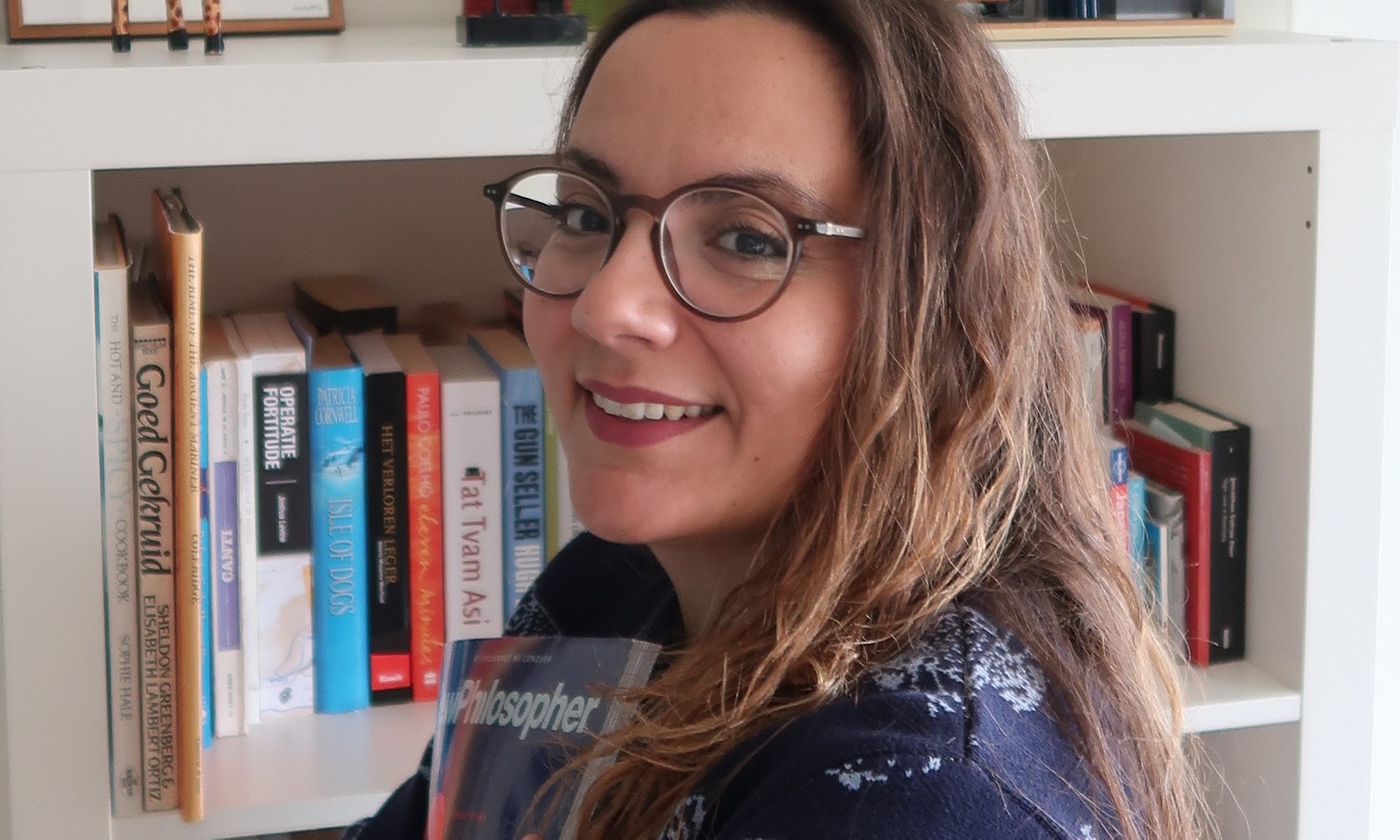 "A magazine to hug, a library full of books, and the Lego Seinfeld set - quintessential me", says Masuzzo. - Picture by Tom Bruyneel
Not long after embarking on her PhD, data scientist Paola Chiara Masuzzo began to feel she was being coaxed into writing research papers primarily for one self-serving purpose: publishing in respected journals to increase the prestige of others. Fed up with this academic culture and the exploitative publishing industry, she decided to go rogue - and has since rediscovered how much she loves good science.
I fell in love with an idea.
When I decided I wanted to do a PhD, it was mostly because I was not ready to give up studying just yet. I loved the smell of books (still do), loved doing experiments on my computer, I enjoyed reading up on scientific literature. And I also adored science - the same way you can adore a god, a goddess, something divine, as something that seems to be above it all, yet still influences it all. In short - I used to think of science as this precious gift donated to humanity by a bunch of super smart, fascinating people. And I simply wanted to be one of them.
Boy, was I wrong. Twelve years later, I can say - not without a pinch of shame - that I hadn't understood very much about it all. In my defense, nobody at university ever told me that science is a productive activity (go figure) and that, like any other productive activity, it is completely influenced by the structure of everything surrounding it. Somebody will call the shots on what's worth being researched, somebody will take a place/sit at the table of the research assessment and decide who's worthy of pursuing an academic career and who's not. It took me a few years to realize this: Richard Lewontin writes in A Reasonable Skepticism, "Science is a social institution about which there is a great deal of misunderstanding, even among those who are part of it." I would actually say: "especially among those who are part of it."
Looking back now, I definitely wouldn't say that I regret having pursued a PhD: that period of my life taught me how to think critically, how to manage my own time and my mental and physical energies; though truth to be told I have a lot more to thank therapy for at this latter point, than I do academia. . But it definitely wasn't all puppies and rainbows, either: the PhD instilled within myself the belief that I was not good enough, and that I would never be good enough. The ideology of "genius" was consumed within academic walls, and the constant pressure of performing hovered everywhere like a ghost: you had to continuously come up with brilliant ideas, publish sexy stuff, produce research that would finally and actually have an impact. Impact: nobody really cared enough to explain what this actually meant. All I heard about, almost every day, for four years straight, was: impact factor, that dreaded number that journals use to tell the world how important they are. It didn't matter too much what I would end up publishing, as long as I could attract the attention and receive the blessing of some publisher, and have my research appear in a "relevant" journal ̶one with a high impact factor, that is.
Yes, I was bullied into producing bad science. But again, I didn't realize it until much later.
During my PhD, I also got to see how scientific publishing actually works for the first time. Research takes months if not years of work, depending on what you are studying and which methodologies you adopt: in data-intensive research, you need to collect samples, analyze them and collaborate with wet-lab researchers and statisticians. And this is only the work that precedes writing an actual scientific article. Once you start drafting it, it goes through tons of polishing iterations, formatting requirements that are different for each journal, and so on and so forth. You pour tears and sweat into the process, only to realize at the end of it all - boom! - whatever you produced doesn't even belong to you anymore.
© | Picture by Tom Bruyneel
Publishing companies turn a profit for work they have not produced themselves, while forcing us authors to waive all rights to said work. No wonder they secure profit margins of about 40 percent, dwarfing even large banks.

Paola Chiara Masuzzo
"How so?", you might ask. Well, most researchers sign copyright transfer agreements when they want to publish their results in journals. I remember feeling confused, and astonished, as my supervisor explained why this was needed (I must admit, I understood the technical reasons back then, but very little more than that), and why paying the publishing houses a lot of money to publish our results, while giving away the copyright to our own work was a key element of subscription-based academic publishing. In essence, these publishing companies turn a profit for work they have not produced themselves, while forcing us authors to waive all rights to said work. No wonder they secure profit margins of about 40 percent, dwarfing even large banks. It didn't make much sense to me back then, and it still doesn't today.
What I really needed to do was to find an alternative space where I could feel like myself, where I could feel safe, seen, heard, while being a researcher. Not much later than that, I stumbled upon the Open Access movement, and the larger Open Science reform movement, and realized it was a world worth being explored. In 2001, a group of researchers fed up with the publishing houses started an online petition asking all scientists to pledge that they would no longer submit articles to journals which did not make the full-text of their papers available to all. This was the beginning of the Open Access movement, which was then formally born in 2002 through the Budapest Open Access Initiative.
One of the strongest voices in the Open Access activism was Jon Tennant. Three years into my PhD, I met him by chance, at a conference in Belgium. We talked about academia, papers, publishing, all sorts of things really. We spent hours talking about Aaron Swartz, the MIT computer programmer and Internet hacktivist who was convicted for downloading myriad research papers from a digital library. Swartz wrote the Guerrilla Open Access Manifesto, a brief yet powerful text that clearly expresses why Open Access is a cause worth fighting for.
Jon and I became friends. He called himself a "rogue scientist": the first time I heard this term, I finally realized I didn't belong in academia anymore. It hit me like a punch in the stomach. Jon understood my feelings: we spent our time together working on rebellious projects and imagining a different kind of university, a place where we could be ourselves and respect our ambitions, follow our freedom of thought and publish wherever we wanted to, without having to continue to obey the gods known as scientific publishers. In 1942, in his seminal essay "Science and Technology in a Democratic Order", sociology pioneer Robert K. Merton nailed it when he wrote:
© | Columbia University via Wikipedia
"An institution under attack must reexamine its foundations, restate its objectives, seek out its rationale. [...] A tower of ivory becomes untenable when its walls are under prolonged assault."

Robert K. Merton
The tower of ivory had me imprisoned for too long, it was time to tear down its walls. It was thanks to Jon that I then discovered IGDORE: the Institute for Globally Distributed Open Research & Education. I still remember his words: "join IGDORE, you might regain that feeling of belonging that you lost somewhere along the way".
He was damn right.
IGDORE's mission sounded like a dream to me - one dreamt by a group of people "dedicated to improving the quality of science, science education, and quality of life for scientists, students and their families". I finished my PhD, and joined IGDORE keeping a double affiliation for a couple of years, and then during my post-doc decided I'd had it with academia, so left, and never looked back.
IGDORE also became the space I decided to occupy, where I could still call myself a researcher, publish with an affiliation - all the while continuing to dream of a new type of academia. I still needed to buy food and pay the bills though, so I started working for the private sector whilst volunteering at IGDORE. Everybody told me I would regret this decision, that I would not fit into the profit logic of the private sector and that I would miss the pure spirit of academic research. They couldn't have been more wrong. The quality of my life has improved, my life-work balance is much healthier, and I don't miss the suffocating walls of the ivory tower one bit.
Since then, I have published many Open Science articles and scientific communication with my IGDORE affiliation, have worked on the development of Open Educational Resources, and have met kind, independent researchers from all around the globe. As the years have gone by, IGDORE has become much more to me than an entity I simply volunteer at - today I sit on its Global Board, and would like for the institute to become a living example that a different way to do research is possible. What I am very proud of is IGDORE's Code of Research Conduct in which we encourage all of its member researchers to make their publications available for everyone by publishing them under an "Open Access" license. Because we believe science should be transparent, we also ask them to provide all the data that led to their publications, so that other researchers can independently verify and reproduce their results.
In doing so, we open up research - which basically means we bring science back to where it's supposed to be: closely serving society and its members – each and every one of them. This means that research articles are no longer trapped behind paywalls but can be accessed and read by anybody and active forms of scientific citizenship, where everybody is part of the scientific process, are possible - after all, much of the public research domain is paid for with tax money. It also means authors are able to retain their copyrights and there is free circulation of knowledge. In short, a framework exists whereby science can once again be a democratic process that involves everybody, and not just the few.
Yes, I profoundly believe that science is (or rather should be) democratic. I am however, aware of what the famous Italian science journalist, Piero Angela, once said: "The speed of light can't be decided by a majority vote" - and that this sentence has been extensively used to say that science is not, and cannot be, democratic. While the speed of light is a universal physical constant, and there is a precise way of measuring it, I actually believe that science and democracy have much more in common than what we are taught to believe. First and foremost, they need each other: science needs democracy - and freedom of thought - to thrive, and democracy needs science to ensure constant innovation in culture, society and the economy. After all, to be carried out, research needs money and governments choose how much of their internal spending should be allocated to it. And who decides what needs to be investigated? Policymakers, who citizens elect via democratic processes.
But there is even more to it.
Italian Philosopher of Law Norberto Bobbio once defined democracy as a way to make collective decisions. A democratic group is a group, he said, in which at least two rules for making collective decisions are valid: "everyone participates in the decision; the decision is taken by majority after an open and inclusive discussion".
Can this be applied to science? According to John Ziman, physicist, humanist, and spokesman for science, it can: "the objective of science is not just to acquire information, nor to utter all noncontradictory notions; its goal is a consensus of rational opinion over the wildest possible field."
And if you think about it, this is how science works, right? In a first, more private phase, groups of researchers question the world and try to understand it, while in a second, more public phase, the results are subjected to critical analysis and communicated to everybody. Of course, there are many methods for this, but none will ever (or should ever) disregard the "consensus of rational opinion": this practice makes sure the ex cathedra authority of the scientific process is dismantled.
This practice is inherently democratic, and so is science.
Science theorist Merton, as previously cited, really spoke about democracy when he proposed a framework of values and norms for science and scientists back in 1942:
Epistemic communism: knowledge belongs to everybody
Universalism: everybody can do science
Disinterestedness: scientists should not follow personal agendas but work for the 'greater good
Organized skepticism: judgment is suspended until findings have been examined
Over the last decades, scientists have forgotten these principles. Science has become elitist, meant only for a few initiated, high-status members and those with financial means. And it has been exploiting researchers/individuals who actually produce knowledge and do the groundwork. At the same time, it has shut out the public while ignoring that they, too, are part of it.
For me, Open Science is the mission to return to the core values highlighted by Merton. If scientific research is just done by a few people, for a few people, can we actually call it science? If science is deprived of its intrinsic democratic value, is it still science?
"Science is a social institution about which there is a great deal of misunderstanding, even (especially) among those who are part of it."

Robert K. Merton
It's time to reinvent science, tear down the walls of its ivory tower and dream a bigger dream. And as I sit here, reflecting on my journey, I realize that I never fell out of love with science. I just needed to find a way to make it align with my own deeply-held values.