South Tyrol's health system and Austria: more than cross-border cooperation?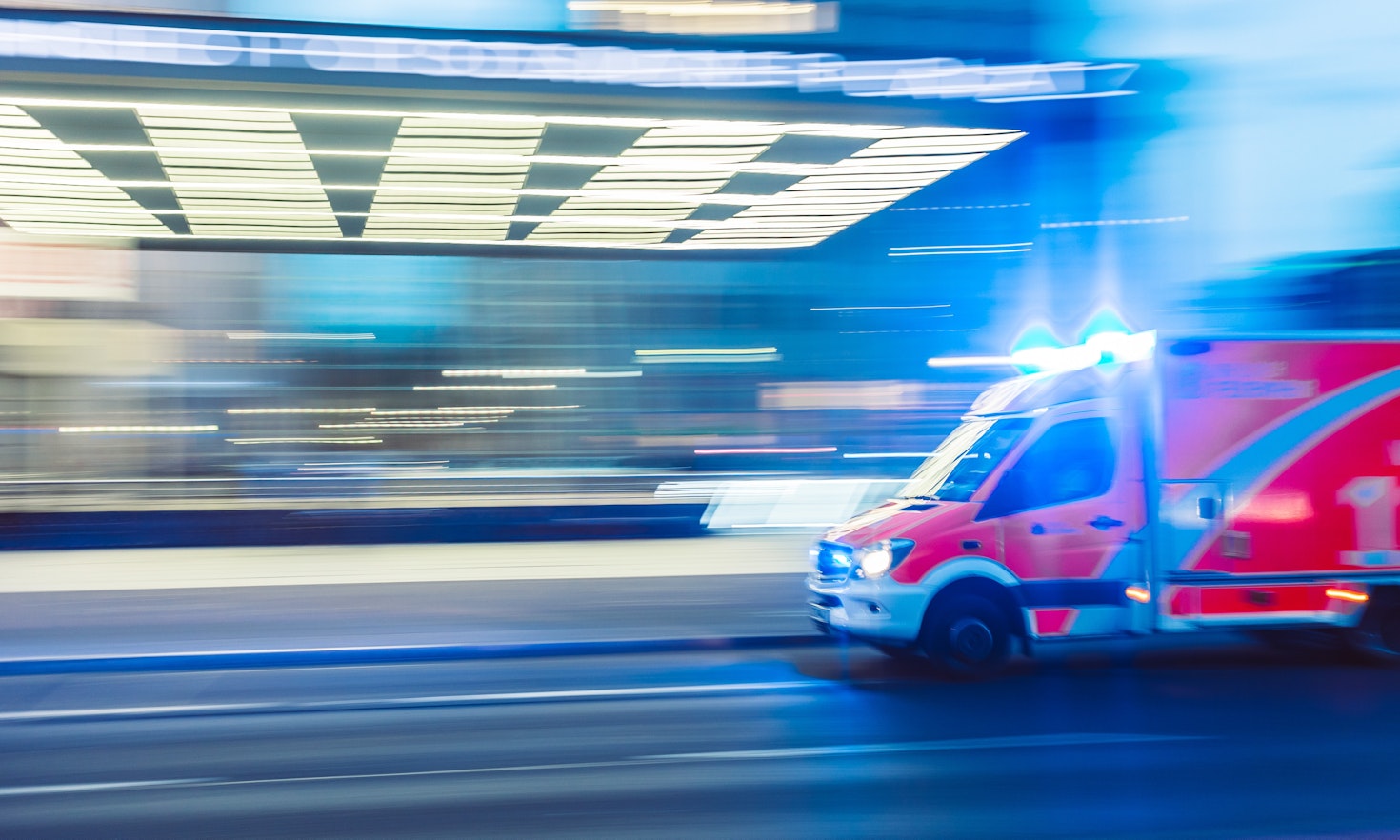 Ambulance - © Camilo Jimenez/Unsplash Camilo Jimenez
A young German-speaking South Tyrolean woman dreams of becoming a doctor. She graduates from high school and decides to study medicine in Austria, as she cannot do so in South Tyrol, where there is no medical school. She takes the entrance test and gets a place with a good but not outstanding result – indeed, thousands of candidates from Germany score better than her but do not get in. At the end of her studies, she discovers that she can do her specialist training in Austria with co-financing from South Tyrol. The prospect of practical training, a multi-year contract and a good salary attracts her, but she misses South Tyrol. She is therefore happy when she learns that she can do her specialist training in South Tyrol, but still in accordance with the Austrian model. So she comes back to South Tyrol, works as a doctor, takes the exam to qualify in Vienna and continues to work as a specialist in South Tyrol. Years later, she falls ill with a complex disease that requires treatment in a university hospital. She is therefore taken to Innsbruck, is fortunately cured and continues to live happily ever after.
Three important links
This fictional but very realistic example shows three essential links between South Tyrol's health system and Austria's: medical studies, specialist training and top-level care. These links have a common basis in the right of all persons to use the German language when dealing with the public administration in South Tyrol. This core element of minority protection goes back to the 1946 Paris Agreement between Italy and Austria and also applies to the health sector – indeed, this is probably the area where the use of one's own language is most important.
Medical studies
A second prerequisite for these links is Austria's protective function for the German and Ladin minorities in South Tyrol, which is also rooted in the Paris Agreement. In fact, the first link – medical studies – is based directly on Austria's protective function. In Austria, there is a closed number of places for medicine and the entrance test always attracts thousands of candidates from Germany, where admission depends on school grades. However, by enrolling and training high numbers of medical students from Germany, with most of them returning home after their studies, Austria could suffer the risk of a serious shortage of doctors. To avoid this, a quota system reserving 75 percent of the posts for candidates with an Austrian high school diploma was introduced. For the purposes of admission to studies, high school diplomas from German or Ladin-speaking schools in South Tyrol are also deemed to have been issued in Austria. Consequently, these candidates are also included in this favourable quota. This equalisation of diplomas is precisely a measure that Austria has taken in the exercise of its protective function. In this way, it offers German medical training to several hundred South Tyroleans (in Innsbruck alone, 372 were enrolled in the summer semester 2021) and, ultimately, helps ensure high-quality bilingual healthcare in South Tyrol. And that is precisely why the measure is in conformity with EU law.
Specialist training
The second form of cooperation concerns specialised training in medicine. In this case, the links are more contractual, as this is not a unilateral Austrian measure but one of cooperation of which there are two main types: the first is the creation of specialist training positions, co-financed by South Tyrol, in Austria and Germany. These positions are reserved for bilingual (German-Italian) doctors who commit to work in South Tyrol for four years in the first decade after their specialisation – an obligation the Court of Justice of the EU found to be in conformity with EU law in the Simma Federspiel case.
The second type is specialist training in South Tyrol according to the Austrian model. This option had already been regulated back in 1980. Until a few years ago, South Tyrolean hospital wards were accredited as training centres by the Austrian Medical Association. But, since 2013, the Italian Ministry of Health has no longer recognised Austrian diplomas if parts of the training were completed in these wards. This problem was then solved by accrediting the wards in Italy and, in 2019, this important model could be resumed. The risk otherwise being that the already existing shortage of doctors would worsen further as the Italian training model cannot compete with those in neighbouring German-speaking countries, especially in terms of salary.
Top-level care
The third major link is top-level care. This form of cooperation, also regulated in 1980, allows South Tyrol to enter into agreements with Austrian facilities to guarantee services that cannot be offered in South Tyrol. And the explicit aim of these agreements is to ensure that German-speaking South Tyroleans receive healthcare services from doctors and nurses who speak their language up to the highest level.
Looking at the numbers, however, it is clear that cross-border mobility is not always the first choice for seeking healthcare. In 2019, the number of outpatient services in Austria amounted to almost 79,000 – with 138,000 in the rest of Italy. In addition, there were 1,195 admissions to Austrian hospitals – but almost four times as many to the rest of Italy. Still, more than a thousand admissions in one year are remarkable, especially since more than 96 percent of these took place in just one facility: the university hospital of Innsbruck. And it is precisely with Innsbruck that there are other forms of cooperation such as Tumor Boards in which the health professionals involved discuss cancer cases.
Cooperation – or rather dependence, "adoption"?
This overview of three essential links between South Tyrol's health system and Austria's shows that the direction of the cooperation is rather unilateral or asymmetrical, with a contribution from South Tyrol that is often only of a financial nature. This is not meant to be a criticism, as such asymmetry is almost intrinsic to relationships between areas with and without a medical university. But then it is still legitimate to ask whether these really are forms of cross-border cooperation, or perhaps rather relations of another nature – specifically of dependence or "adoption"?
What is clear is that there is no absolute dependence or "adoption". In fact, South Tyrol maintains similar – and often also much stronger – relations with various Italian universities and hospitals, while a certain natural dependence exists for medical training and healthcare in German. However, there is another interesting number – that of South Tyrolean doctors working in Austria. No less than 316 Italian doctors work in Tyrol alone, and it is clear that most of them are South Tyrolean. Conversely, in South Tyrol there are "only" 110 Austrian-born doctors, including many South Tyroleans born there for different reasons such as medical necessity in the case of a difficult birth (remember the cooperation for top-level care).
This leads me to reassess the healthcare relationship between South Tyrol and Austria. Despite a certain (natural) dependence on Austria for training and care in the German language, it is not a unilateral cooperation since the many South Tyrolean doctors in Austria make an important (and given the shortage of doctors in South Tyrol, also painful) contribution to the health system of Tyrol in particular. Rather, the relationship could thus be defined as one of an asymmetrical – and partly random, non-institutionalised – cooperation.
Asymmetrical cooperation as the backbone of health cooperation
I believe that this asymmetrical cooperation is – and will remain – the backbone of health cooperation in the Brenner(o) area. This core can be supplemented but hardly replaced by other, more reciprocal forms such as the establishment of joint hospital wards. In fact, more reciprocal cooperation is complicated by the structural differences of the two health systems and the problem of having to operate in more than one language, which would at least require a strong organisational effort. However, provided there is mutual will, there are many ways of enriching this basic cooperation, which is in itself an impressive example of cross-border cooperation. Both Euregio and Interreg are possible platforms for achieving a more reciprocal cooperation.