INCardio
Terapie INnovative per la cura delle malattie Cardiovascolari.
Project duration: -
Project status: ongoing
Funding:

Italy-Austria 2014-2020 (EUTC / EU funding / Project)

Total project budget: 514.803,00 €
Website: https://www.incardio.eu/
Scopo del Progetto è la creazione di un centro di eccellenza in grado di rafforzare le capacità di Ricerca & Innovazione nell'area di programma promuovendo lo sviluppo di tecnologie e concetti terapeutici d'avanguardia che possano migliorare le condizioni degli affetti da patologie cardiovascolari (di cui soffre circa il 30% della popolazione europea e che provocano circa il 40% dei decessi in Italia e il 45% in Austria, secondo i dati Eurostat del 2015). Gli istituti di ricerca coinvolti uniranno le rispettive esperienze negli ambiti della fisiologia, della biologia, della chirurgia del trapianto cardiaco, dell'ingegneria biomedica e della bioinformatica per esplorare l'attività di composti in grado di modulare la funzione cardiaca. In particolare, si studierà il ruolo delle forze meccaniche nel controllare le proprietà delle cellule cardiache. I cardiomiociti derivati da cellule staminali pluripotenti indotte (iPSC) saranno usati per reintrodurre il contesto umano nelle fasi preliminari della ricerca farmacologica. La creazione di una piattaforma condivisa per lo studio delle proprietà elettriche e meccaniche delle cellule cardiache e di un Virtual Competence Center (VCC) garantirà la sostenibilità del progetto e la fruizione dei risultati anche dopo la conclusione dello stesso.

INCardio è finanziato dal fondo ERDF / Interreg V-A Italy-Austria 2014-2020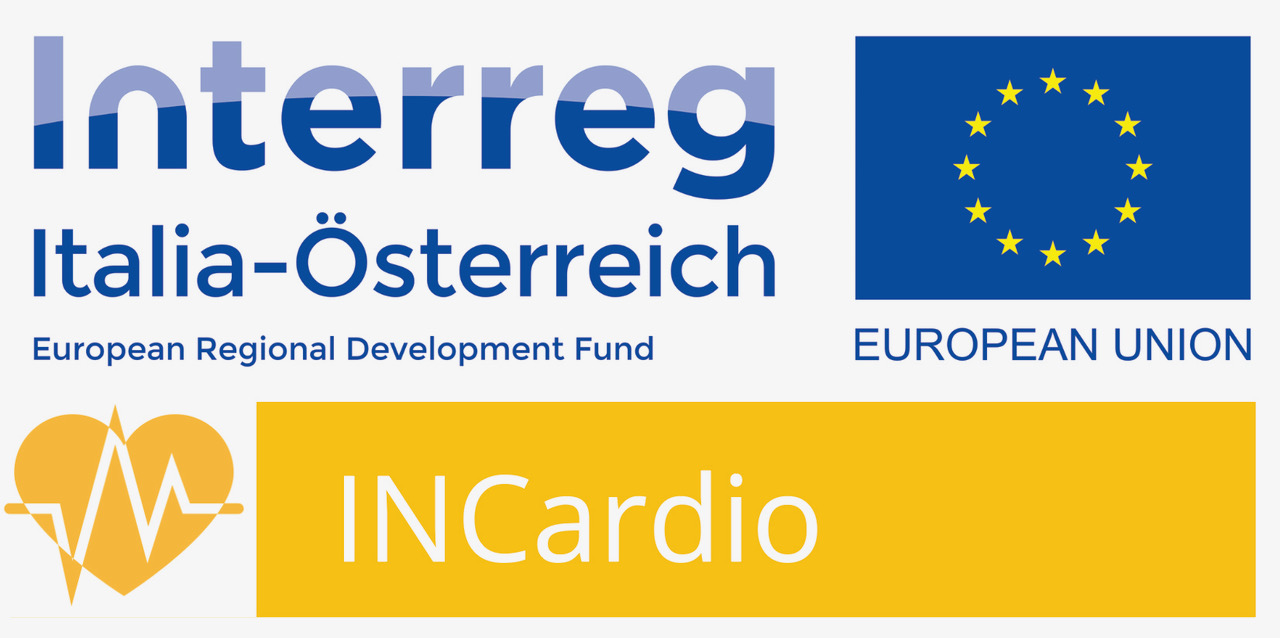 Questo contenuto è ospitato da una terza parte. Mostrando il contenuto esterno si accettano
termini e condizioni.
Project video
Publications
Modeling incomplete penetrance in arrhythmogenic cardiomyopathy by human induced pluripotent stem cell derived cardiomyocytes
De Bortoli M, Meraviglia V, Mackova K, Frommelt LS, König E, Rainer J, Volani C, Benzoni P, Schlittler M, Cattelan G, Motta BM, Volpato C, Rauhe W, Barbuti A, Zacchigna S, Pramstaller PP, Rossini A (2023)
Elsevier BV
Articolo su rivista
Computational and Structural Biotechnology Journal
Ulteriori informazioni: http://dx.doi.org/10.1016/j.csbj.2023.02.029
A Novel Algorithmic Approach to the Analysis of Multi-Electrode Array Signals of hiPSC-Derived Cardiomyocytes
Voutsinas C, Frommelt LS, Volani C, Rossini A, Oberzaucher J. (2023)
Contributo in atti di convegno

Conference: dHealth 2023; 17th Annual Conference on Health Informatics meets Digital Health | Vienna | 16.5.2023 - 17.5.2023
A novel human iPSC-based co-culture model to study neurocardiac interaction in vitro
Cattelan G, Gentile G, Volani C, Frommelt LS, Lavdas A, Foco L, De Bortoli M, Altomare C, Barile L, Zacchigna S, Pramstaller PP, Pichler I, Zanon A, Rossini A (2023)
Presentazione

Conference: The role of 3Rs in the age of One Health| where we are and where we're going | Milan : 13.9.2023 - 15.9.2023
Ulteriori informazioni: https://www.centro3r.it/it/events/iv-convegno-del-centro-3r
Generation of human induced pluripotent stem cell line EURACi015-A from a patient affected by dilated cardiomyopathy carrying the Lamin A/C p.Glu161Lys mutation
Cattelan G, Frommelt LS, Volani C, Colliva A, Ciucci G, Paldino A, Dal Ferro M, Di Segni M, Silipigni R, Pramstaller PP, De Bortoli M, Zacchigna S, Rossini A. (2023)
Articolo su rivista
Stem Cell Research
Ulteriori informazioni: https://www.sciencedirect.com/science/article/pii/S187350612 ...
Are human induced pluripotent stem cell derived cardiomyocytes a good cellular model for studying incomplete penetrance in Arrhythmogenic Cardiomyopathy?
De Bortoli M, Meraviglia V, Mackova K, Volani C, Frommelt LS, Schlittler M, Cattelan G, König E, Rauhe W, Barbuti A, Zacchigna S, Pramstaller PP, Rossini A (2022)
Presentazione

Conference: Frontiers in CardioVascular Biomedicine 2022 | Budapest | 29.4.2022 - 1.5.2022
Set-up of a novel in vitro neurocardiac cell model for the in-depth study of heart disease
Cattelan G, Frommelt LS, De Bortoli M, Mackova K, Ciucci G, Zacchigna S, Pramstaller PP, Pichler I, Zanon A, Rossini A
(2022)
Presentazione

Conference: Frontiers in CardioVascular Biomedicine 2022 | Budapest | 29.4.2022 - 1.5.2022
Ulteriori informazioni: https://doi.org/10.1093/cvr/cvac066.245
Evaluation of a novel in vitro neurocardiac cellular model for the study of heart disorders
Cattelan G, Gentile G, Frommelt LS, Lavdas A, Foco L, De Bortoli M, Mackova K, Ciucci G, Zacchigna S, Pramstaller PP, Pichler I, Zanon A, Rossini A (2022)
Presentazione

Conference: MEA Meeting 2022 - 12th International Conference on Microelectrode Arrays for Life Sciences | Tübingen | 6.7.2022 - 8.7.2022
Modeling incomplete penetrance in Arrhythmogenic cardiomyopathy by human induced pluripotent stem cell derived cardiomyocytes
De Bortoli M (2022)
Presentazione

Conference: INCardio Webinar - Cardiac arrhythmias and novel tools for the definition of new anti-arrhythmic therapies | Online | 14.9.2022 - 14.9.2022
Investigating the electrical effects of a phytochemical drug library on iPS-derived cardiomyocytes
Frommelt LS (2022)
Presentazione

Conference: Cardiac arrhythmias and novel tools for the definition of new anti-arrhythmic therapies | webinar | 14.9.2022 - 14.9.2022
Questioni di cuore: Come le cellule staminali ci aiutano a spiegare meglio le malattie cardiache

Rossini A (2021)
Presentazione

Conference: Eurac for Schools. Lecture 2021 | | 9.2.2021 - 9.2.2021