INCardio
Innovative Therapien zur Behandlung kardiovaskulärer Erkrankungen.
Project duration: -
Project status: ongoing
Funding:

Italy-Austria 2014-2020 (EUTC / EU funding / Project)

Total project budget: 514.803,00 €
Website: https://www.incardio.eu/
Ziel des Projektes ist die Einrichtung eines Exzellenzzentrums zur Intensivierung der Forschungs- & Innovationsaktivitäten im Programmgebiet; in diesem Rahmen sollen Spitzentechnologien und therapeutische Konzepte zur Verbesserung der Behandlung von Herz-Kreislauf-Erkrankungen entwickelt werden (unter denen ca. 30% der europäischen Bevölkerung leiden und die gemäß der Eurostatdaten von 2015 ca. 40% der Todesfälle in Italien und 45% der Todesfölle in Österreich verursachen). Die beteiligten Forschungseinrichtungen werden ihr Wissen und ihre Erfahrungen im Bereich Physiologie, Biologie, Herztransplantationschirurgie, biomedizinische Techniken und Bioinformatik bündeln, um Wirkstoffverbindungen zu entwicklen, welche die Herzfunktion modulieren. Dabei steht die Rolle der mechanischen Kräfte bei der Steuerung der Eigenschaften der Herzzellen im Vordergrund. Die aus induzierten pluripotenten Stammzellen (iPSC) gewonnenen Kardiomyozyten werden eingesetzt, um die Anendung bei Menschen in den vorbereitenden Phasen der pharmakologischen Forschung zu simulieren. Die Einrichtung einer gemeinsamen Plattform zur Untersuchung der elektrischen und mechanischen Eigenschaften der Herzzellen und eines Virtuellen Kompetenzzentrums (Virtual Competence Center - VCC) werden die Nachhaltigkeit des Projektes und die auch nach Projektabschluss gewährleistete Nutzung der Ergebnisse garantieren.

INCardio ist ein Projekt unterstützt von Der ERDF / Interreg V-A Italy-Austria 2014-2020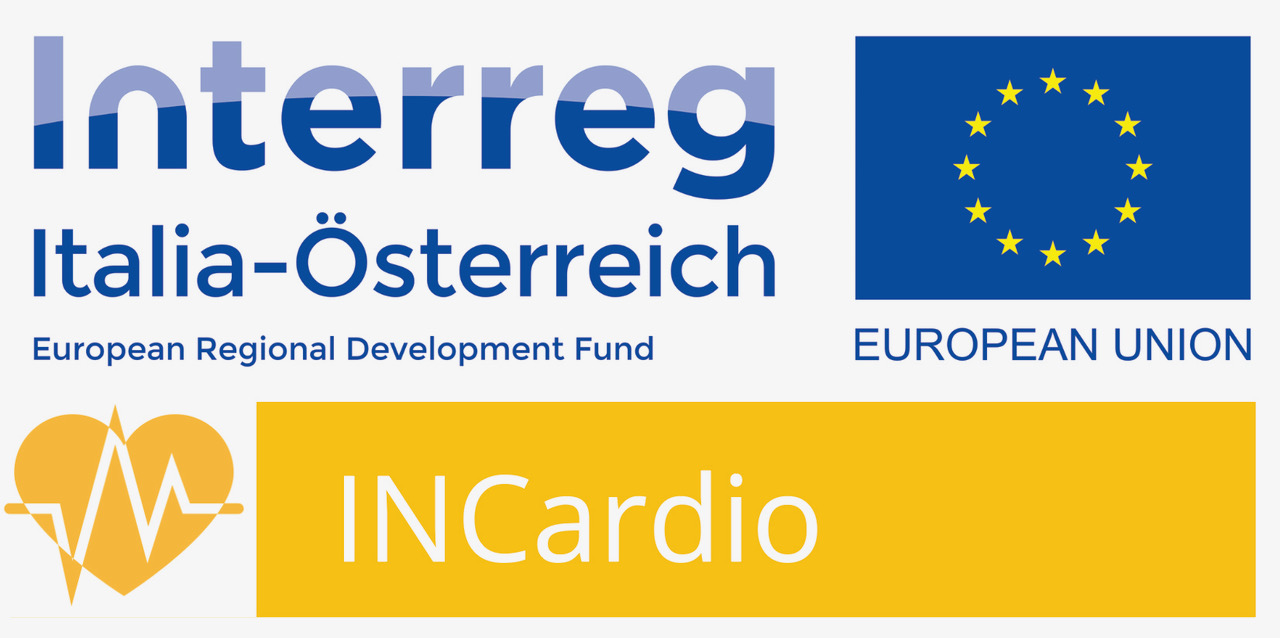 Dieser Inhalt wird von einem externen Anbieter bereitgestellt. Durch die Anzeige des externen Inhalts akzeptieren Sie die
Bedingungen und Konditionen.
Project video
Publications
Modeling incomplete penetrance in arrhythmogenic cardiomyopathy by human induced pluripotent stem cell derived cardiomyocytes
De Bortoli M, Meraviglia V, Mackova K, Frommelt LS, König E, Rainer J, Volani C, Benzoni P, Schlittler M, Cattelan G, Motta BM, Volpato C, Rauhe W, Barbuti A, Zacchigna S, Pramstaller PP, Rossini A (2023)
Elsevier BV
Zeitschriftenartikel
Computational and Structural Biotechnology Journal
Weitere Informationen: http://dx.doi.org/10.1016/j.csbj.2023.02.029
A Novel Algorithmic Approach to the Analysis of Multi-Electrode Array Signals of hiPSC-Derived Cardiomyocytes
Voutsinas C, Frommelt LS, Volani C, Rossini A, Oberzaucher J. (2023)
Beitrag in Konferenzband

Conference: dHealth 2023; 17th Annual Conference on Health Informatics meets Digital Health | Vienna | 16.5.2023 - 17.5.2023
A novel human iPSC-based co-culture model to study neurocardiac interaction in vitro
Cattelan G, Gentile G, Volani C, Frommelt LS, Lavdas A, Foco L, De Bortoli M, Altomare C, Barile L, Zacchigna S, Pramstaller PP, Pichler I, Zanon A, Rossini A (2023)
Vortrag

Conference: The role of 3Rs in the age of One Health| where we are and where we're going | Milan : 13.9.2023 - 15.9.2023
Weitere Informationen: https://www.centro3r.it/it/events/iv-convegno-del-centro-3r
Generation of human induced pluripotent stem cell line EURACi015-A from a patient affected by dilated cardiomyopathy carrying the Lamin A/C p.Glu161Lys mutation
Cattelan G, Frommelt LS, Volani C, Colliva A, Ciucci G, Paldino A, Dal Ferro M, Di Segni M, Silipigni R, Pramstaller PP, De Bortoli M, Zacchigna S, Rossini A. (2023)
Zeitschriftenartikel
Stem Cell Research
Weitere Informationen: https://www.sciencedirect.com/science/article/pii/S187350612 ...
Are human induced pluripotent stem cell derived cardiomyocytes a good cellular model for studying incomplete penetrance in Arrhythmogenic Cardiomyopathy?
De Bortoli M, Meraviglia V, Mackova K, Volani C, Frommelt LS, Schlittler M, Cattelan G, König E, Rauhe W, Barbuti A, Zacchigna S, Pramstaller PP, Rossini A (2022)
Vortrag

Conference: Frontiers in CardioVascular Biomedicine 2022 | Budapest | 29.4.2022 - 1.5.2022
Set-up of a novel in vitro neurocardiac cell model for the in-depth study of heart disease
Cattelan G, Frommelt LS, De Bortoli M, Mackova K, Ciucci G, Zacchigna S, Pramstaller PP, Pichler I, Zanon A, Rossini A
(2022)
Vortrag

Conference: Frontiers in CardioVascular Biomedicine 2022 | Budapest | 29.4.2022 - 1.5.2022
Weitere Informationen: https://doi.org/10.1093/cvr/cvac066.245
Evaluation of a novel in vitro neurocardiac cellular model for the study of heart disorders
Cattelan G, Gentile G, Frommelt LS, Lavdas A, Foco L, De Bortoli M, Mackova K, Ciucci G, Zacchigna S, Pramstaller PP, Pichler I, Zanon A, Rossini A (2022)
Vortrag

Conference: MEA Meeting 2022 - 12th International Conference on Microelectrode Arrays for Life Sciences | Tübingen | 6.7.2022 - 8.7.2022
Modeling incomplete penetrance in Arrhythmogenic cardiomyopathy by human induced pluripotent stem cell derived cardiomyocytes
De Bortoli M (2022)
Vortrag

Conference: INCardio Webinar - Cardiac arrhythmias and novel tools for the definition of new anti-arrhythmic therapies | Online | 14.9.2022 - 14.9.2022
Investigating the electrical effects of a phytochemical drug library on iPS-derived cardiomyocytes
Frommelt LS (2022)
Vortrag

Conference: Cardiac arrhythmias and novel tools for the definition of new anti-arrhythmic therapies | webinar | 14.9.2022 - 14.9.2022
Questioni di cuore: Come le cellule staminali ci aiutano a spiegare meglio le malattie cardiache

Rossini A (2021)
Vortrag

Conference: Eurac for Schools. Lecture 2021 | | 9.2.2021 - 9.2.2021