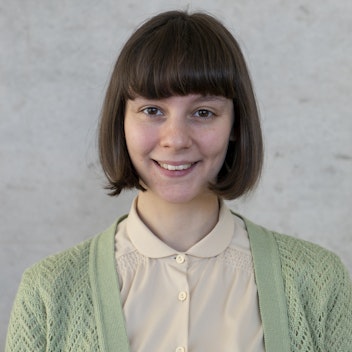 Arianna Bienati
Junior Researcher
Institute for Applied Linguistics
T 222 550 1740 93+
ude.carue@itaneib.annaira
About
I specialize in sociolinguistic variation in writing, textual coherence and cohesion and text quality measures, especially in students' and young adults' writing. Fascinated by all things quantitative, I strive to use statistical and computational methods in the language sciences with the aim of informing language training through data-driven, evidence-based decisions.

As a Junior Researcher at the Institute for Applied Linguistics at Eurac Research, I followed the ITACA project - Coherence in Academic Italian throughout its various phases. I have thus acquired experience in data collection and sampling, working with manual and automatic annotation tools to extract and analyze linguistic features, advanced quantitative corpus methods or corpus analyses and data management including open science strategies.
I trained as an applied linguist at the University of Bologna, where I earned my MA degree (First class Honours) with a dissertation on restandardisation processes in university students' academic writing. During my undergraduate and postgraduate studies, I volunteered to collaborate at nationally and internationally relevant projects on academic writing, foreign language teaching and promotion of multilingualism in schools.
In 2018 and 2020 respectively I visited the University of Amsterdam and the University of Cologne as an Erasmus+ student. Thanks to the extended training and use of English and German as working and study languages I am highly proficient in both English and German, as well as I have outstanding interpersonal communication skills in my mother tongue, Italian.
To read my latest publications, please visit: 
For an overview of my professional experience, please visit:
​​​​
MAGAZINE

Science Stories that Inspire